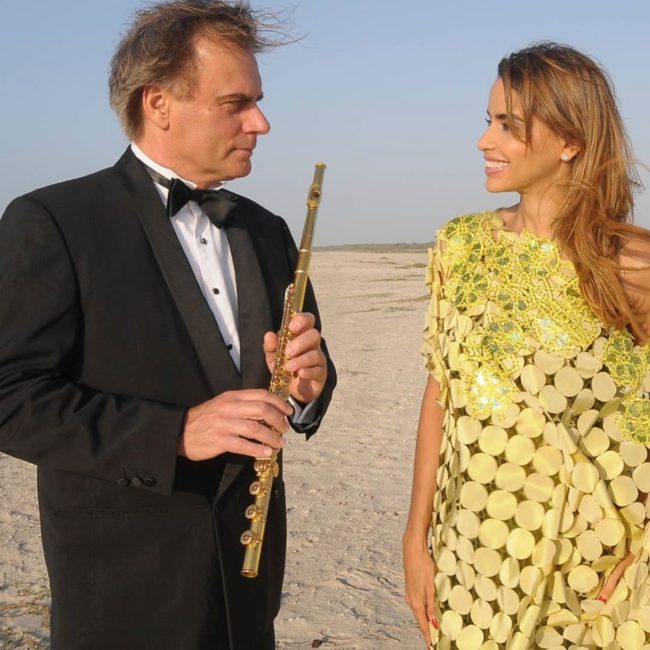 Andrea Griminelli is considered one of the most famous flautist of the world. He has been on the stage together with Luciano Pavarotti, Andrea Bocelli, sting and Elton John among others. On may 28 the lounched in Cartagena, Colombia his new musical creation "Vientos Vallenatos" together with Sergio Luis Rodriguez who was King of Vallenato in 2009.  "Vientos Vallenatos" is a fusion between classic music and Vallenato (a tipical music from the north of colombia).The producer of this creation is Griminelli`s wife Rossana Redondo who was Miss Guajira 1997,  Model and  TV Presenter.
We asked Rossana some questions about "Vientos Vallenatos" and here are her answers:
-Was the production 100% yours? -Yes, it was. The distribution will be done in association with Codiscos (Colombia).
-How long did it take to finish the project? – 2 years, Andrea is always traveling, the disc was produced in Barranquilla, Colombia.
-How come did you have this idea? – it happend after a concert for Sol Azul the fundation i have to help the indigenas kids of La Guajira. I asked Andrea to include in the repertoire two songs of vallenato and everybody liked it. We contacted then Sergio Luis Rodriguez and Luis Ortega, music producer to start the project.
-How was the reaction of the colombians? – The reaction has been really spectacular, all colombian newspapers and TV Channels have reported about the project.
Thank you Rossana Redondo!
Rey Rodriguez